Alexis Ibarra Ibarra
This is the version in English, para la versión en español da click aquí.
Modern Family, a multi-award winning TV show, is one of my favorite series. This sitcom presents the happy life of a middle upper class, multidiverse, happy American family that faces absurd situations mainly caused by a series of misunderstandings that blow up at the end of every episode. This mockumentary shows the coexistence of different ethnicities, generations, sexual orientations, and genders from a positive perspective while playing with stereotypes and the truths that may be behind them.
Some of the funniest scenes are those where Mitch and Cam —a homosexual couple— act in an inclusive manner but end up being regarded as intolerant by incidental spectators that hear only fragments of their conversations. It is true that Modern Family could be considered as an "inclusive" discourse from a socioeconomic class privilege, but that does not make it less funny nor devalue its positive message of diversity and tolerance.
My favorite character is Gloria — a sexy Colombian and second wife of Jay, at least 20 years older than her. Jay considers himself to be the "patriarch" of the family despite the fact that the rest of the characters, particularly the female ones, always do as they please and generally impose their desires over his. Granted, Gloria is clearly a "Latin" stereotype, but it reivindicates the idea of the sexy Latin woman as a strong, capable, self-sufficient, and smart person. By the way, I do not like the term "Latin" because of its vagueness; it tries to melt extremely different cultures with very particular problems into just one term.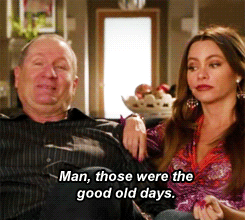 Her passion for life introduces flavor to a family that is predominantly white. Same way, her pursuit to share her Colombian roots creates a cultural shock that causes new understandings between the groups. Besides, I have to admit that I feel strongly represented in some of her dialogues: her constant struggle to express herself speaking English instead of in Spanish, her mother-tongue, is one that, a lot of "Latins", have to face.
I have to mention that Alex —Claire's daughter, which is Jay's daughter, and Phil, a laid-back and fun dad, deeply represented me in an episode where she goes to a psychologist and explains the loneliness, stress, and pressure, internal and external, of being a perfectionist nerd.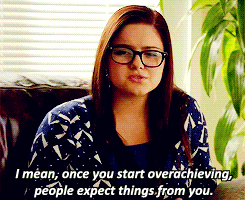 To introduce even more ethnical and cultural diversity, we have Lily —Mitch and Cam adopted her in Vietnam when she was just a baby. Lily is a punchline character: with only one line in her scenes, Lily becomes a memorable character that attacks the emotional vulnerabilities of the other characters in a sarcastic, ironic, and sassy way.
These are my favorite characters; however, I have not written about the topic mentioned in the title: the struggle against the existential silence. Sometimes, when I am feeling depressed, I watch Modern Family, and, after a couple of episodes, I feel not only better but happy. The light comedy developed in every episode calms me down to the point of making me forget about certain personal troubles and conflicts —some of them can even be classified as traumatic.
I remember reading a scientific article that stated that kids like to listen to the same story over and over again because since they know how it ends, they feel safe and comforted. Well, that is what this series is for me: I have watched Modern Family millions of times and I keep watching it because sometimes I need something to comfort me. This way, I also use it as background noise when the silence becomes insufferable, when the music becomes too tiring, when I have to work in something stressful or when I need some "white noise" to sleep. I know what it happens, so I do not have to pay attention to the dialogues —I do not feel like I am missing something important—, and I feel embraced by their familiar and cheery voices.
This way, Modern Family has become in something more than just one of my favorite series: it is a therapeutic piece of pop culture that contributes to my mental wellness —together with The Big Bang Theory and The Nanny. Is this a symbol of our consumption decadence? I do not know, but honestly, I do not care. In my opinion, the important thing is to find something heartwarming that makes us feel whole and happy, even for a moment, without falling into insane and [self]destructive behaviors.
Anyway, surely, you have a series, book, music, movie, cake or blankety that makes you feel this way: safe and happy. So please, share what your comforting object is in the comment section below! ❤ ❤ ❤ ❤
Do you like Modern Family? What is your favorite heartwarming object? Please leave a slice of your opinion in the Comment Section below! The bakers are always happy to taste your ideas!
Do not forget to share a slice with your friends! ❤
Featured image taken form Blogspot.
"Mitch y Cam" gif taken from We Heart It.
"Jay y Gloria" gif taken from Gifer.
"Gloria" gif taken from Pinterest.
"Alex" gif taken from Giphy.
"Lily" gif taken from Pinterest.
"Phil" gif taken from Imgur.