Alexis Ibarra-Ibarra
Cake and Art lovers! This is Day 4 of my October Ink Challenge: Yellowjellover, which is #inktober52/#inktober2020* + #linktober2020 + #love. I'll be posting my work every day, so please keep an eye on The Cake | us vs reality !
Here's day 4: "Snake" + "Favorite Place"
"One day, everyone disappeared without leaving a trace. The Labyrinth that hides a Spiritual Stone was covered by the Jungle, where solely the Hero of Time could find it. The only thing that remains from that beautiful culture is this ancient Codex that prophesies the return of the Courageous Hero."
I procrastinated a lot with this one even if I knew what I wanted to draw since the beginning. I usually draw characters, so for me, this task made me go out of my comfort zone. Now that I think about it, it's quite funny that I don't draw buildings very often…both of my parents are architects!
Anyway, I really like Mesoamerican/Mexican ruins and archaeological zones, so I couldn't but love the labyrinths in Breath of the Wild. If you pay attention to the walls, you will find these giant snakes that clearly reference Mesoamerican cultures and art. Because of that, I decided to incorporate some elements from Teotihuacán, México: the snake sculptures that look like masks in the top row and represent Quetzalcóatl, the Feathered Snake God. Teotihuacán is a fantastic place you should definitely visit if you decide to travel to Central Mexico. I attach some images about that amazing place and the elements I borrowed for my (artwork, so you can appreciate the beauty of that place.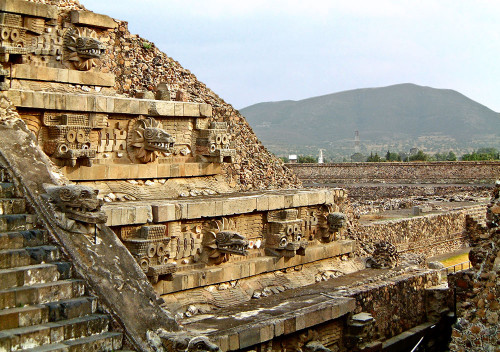 ---
I really hope you liked my drawing!
❤
If you do, please follow me!
Instagram: Yellow Jello | @hello_yellow.jello
Facebook: Yellow Jello | @YelloJello.onFB
❤
For Day 1: "Flight" + "Beast/Monster" click here.
For Day 2: "Shadow" + "Princess" click here.
For Day 3: "Brick" + "Time" click here.
---
What do you think about my artwork? Please share a slice of your opinion in the Comment Section below! I'll be thrilled to read your comments!
The artwork is solely owned by Alexis Ibarra Ibarra 2020 ©. Any intention to use this image for commercial and/or advertisement purposes should be discussed directly with the artist.
"Sun Pyramid" image taken from Location Scout.
"Moon Pyramid" image taken from National Geographic.
"Temple of The Feathered-Serpent" image taken from Uncovered History.
* I made a mistake and worked with the Prompt List of #inktober52, which is the weekly drawing challenge that goes all year round, instead of the October daily challenge of #inktober2020… I'm new at this, so I'm sorry! Still, I am happy with the results, and I'll be attaching my artwork to the #inktober2020.